Abnormal Heart Rhythms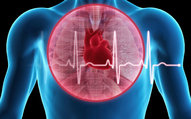 Submit Abstract
Register Now
An abnormal heart rhythm also called an Arrhythmia means your heart is beating too fast, too slow, or with an irregular pattern. Your heart has an electrical system that tells it when to beat and pump blood around your body. If there is a problem with this system you may experience an abnormal heart rhythm. The symptoms of an abnormal heart rhythm depend on what type of arrhythmia you have. The most common symptoms of an abnormal heart rhythm include palpitations (a thumping or fluttering sensation in your chest), dizziness, breathlessness, feeling tired and losing consciousness.
It's normal for heart to beat at different rates during the day. It will be slower when you're resting but may be faster when you are physically active, anxious or excited. If heart has missed or 'skipped' a beat, or that there has been an extra beat. This is called an ectopic beat. Ectopic beats are very common and harmless so they don't usually need treatment. It is highly recommended to visit doctor, if you have felt any of the described feelings like palpitations last a long time, don't improve or get worse, feeling dizzy or faint and you have history of heart problems.
There are many different types of abnormal heart rhythm depends on where the heart electrical impulse starts, and if it causes your heart to beat too fast, or too slowly. Common Abnormal Rhythm is Atrial Fibrillation, an irregular or fast heart rhythm. Other abnormal heart rhythms include:
· Fast heart rhythms such as Supraventricular Tachycardia (SVT), Sinus Tachycardia (ST) and Ventricular Tachycardia (VT) are known as Tachycardias and are faster than 90 beats per minute
· Bradycardias such as heart block are slow abnormal heart rhythms, when your heart beat is 60 beats per minute or below
· Atrial Flutter is typically a very fast, irregular heart rhythm
· Tachybrady syndrome (sick sinus syndrome) includes periods of very fast or slow heart beats
· Ventricular Fibrillation (VF), is an abnormal heart rhythm that's so fast a pulse cannot be identified and is an emergency situation.
Some abnormal heart rhythms are inherited. Depending upon the family, in such case it is better to have tested to take preventive measures. Abnormal Heart Rhythms include:
Tachycardia
Atrial Fibrillation
Atrial Flutter
Bradycardia
Ventricular Fibrillation
Premature Contractions
Related Conference of
Abnormal Heart Rhythms
Abnormal Heart Rhythms
Conference Speakers
Recommended
Sessions
Related
Journals
Are you
interested

in